Join our 200 club lottery and have the chance to win up to 4 prizes each month totalling £275
You'll get a unique number for each £2 bond you buy which will go into the random draw each month.  And we'll be in touch if you win.
Your unique bond numbers remain yours for as long as you stay in the club and you will be notified if one  (or more) of them is a winner.
At least 50% of the money received into the 200 club is paid out in prizes.   The remainder goes to The Ryan MS Therapy Centre funds.  Currently there are at least 48 prizes each year.
If you are aged 16 or over, complete our simple online application or download and complete the  application form and return it to the address shown on the bottom of the form.  The rules of the 200 club can be found here.
Thank you for the support and Good Luck
The Tandridge lottery takes just moments to enter and we get 50% of the ticket price.
You'll get 10 numbers for every £1 spent, and a chance to win £25k each week. To support us and be in with a chance to win, buy your tickets here.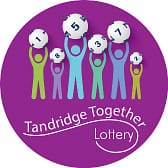 Support us
Donations are really important to the continued running of the Ryan MS Therapy Centre, particularly as we receive no government funding.