Having ready access to physiotherapists who know me and my MS is brilliant. I can tell them anything and trust them completely.Prabs , February 2019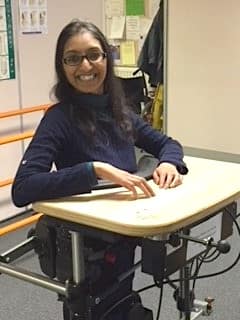 Prabs felt she was coping with her MS but when a friend offered to accompany her to the MS Therapy Centre to see what was on offer she was surprised at how much more she could do!
Prabs told us
"I would describe myself as a pretty positive person and was encouraged to find that my Monday class is full of similarly motivated people.
The Centre has a range of equipment and if I have difficulty one week, the physios find me another machine so I can exercise to keep myself mobile.
I want my sons to see how important it is to take responsibility for yourself and I feel that my regular attendance shows me doing just that
Apart from that my body really lets me know when I've skipped a week and as well as the exercises and equipment, I miss the group chat, positivity and encouragement when I'm not there".
Support us
Donations are really important to the continued running of the Ryan MS Therapy Centre, particularly as we receive no government funding.